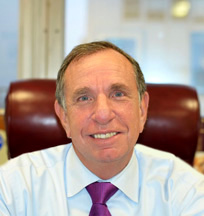 Since 1982, Arnie Kriss has been in private practice.
Formerly, a Brooklyn Assistant District Attorney, who investigated numerous criminal matters and prosecuted drug and murder cases, a New York Police Department Deputy Commissioner-Trials in charge of the New York Police Department's administrative law tribunal, and for over twenty three years Chairman, New York City Health and Hospitals Personnel Review Board, reviewing and deciding the City's health system's personnel and labor matters.
As an experienced criminal defense attorney he has represented clients, both individuals and corporations, in the United States District Courts, Southern and Eastern Districts of New York, in Connecticut, New Jersey and Iowa. He has appeared before the United States Court of Appeals-2nd Circuit, as well as, before New York State Criminal Courts, Supreme Courts and the Appellate Divisions, 1st and 2nd Departments, if an appeal was required.
Having extensive trial experience he understands how the court system works and knows how to resolve a matter in the best possible manner for a client. In over thirty years as a criminal defense attorney, he treats every criminal client's case with the highest priority, since he knows that a client demands that level of representation, their freedom is at stake and any criminal conviction has wide ranging consequences.
For instance, in a federal criminal case where a client was facing a 20 year sentence, through creative federal sentencing, the client received in essence a 24 month federal sentence; a federal client facing a mandatory minimum 10 year sentence for participation in a drug conspiracy received, with mitigating circumstances, a 48 month sentence; a state client facing a 5 year to life sentence received a 3-9 year sentence; and in another state case the client received a probationary sentence after facing a 10 year jail sentence. In federal criminal cases, he understands the importance of the Sentencing Guidelines and the need to use creativity, mitigating circumstances and case law to place a client in the best position at the time of sentencing.
Mr. Kriss has served as legal advisor to various for profit and not for profit corporations covering all matters from incorporation to handling all legal and related matters, for such industries as the public pay telephone business, a supermarket chain, real estate management companies, private housing corporations and co-operatives, as well as, not for profits for the arts, merchants association, public interest not for profits and political action committees.
A former Chief Administrative Law Judge for the New York Police Department and the Chairman of the NYC Health and Hospitals Corporation, Mr. Kriss is well experienced in all disciplinary and labor-management matters, which has provided him the expertise to represent clients, both public and corporate employees, before administrative tribunals and at arbitrations.
He has completed a 36 hour approved Mediation course enhancing his administrative law judge experience, is certified as a federal Mediator by the United States District Court, Southern District of New York, has been appointed by the New York State Supreme Court as Guardian ad Litem in estate and mortgage forfeiture matters and as a court appointed Receiver for both federal and state matters.
His wide spread experience has included handling all personal injury matters, medical malpractice cases, as well as, matrimonial and commercial matters.
Mr. Kriss is also counsel to former Mayor Edward I. Koch's New York Uprising political action committee which advocates ethics, budget and redistricting reform for the New York State's Legislature. He has also represented clients with governmental issues before all parts of New York City and State of New York's governments, as well as, advising elected officials and candidates for public office.
Lecturer: 2011 NYC Conflicts of Interest Board Continuing Legal Education.